About The Race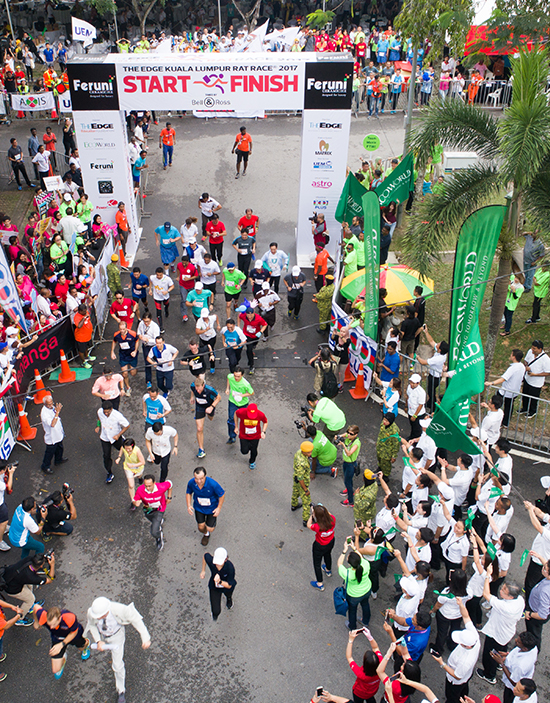 Since its launch in 2000, The Edge Kuala Lumpur Rat Race®, inspired by the Carey Wall St Rat Race in New York, has been regarded as one of the highlights of the annual calendar for Corporate Malaysia. It has been run every year, with the exception of 2015 when inclement weather led to the cancellation of the race. Since its inception, the generosity of Corporate Malaysia has enabled us to raise about RM23 million for charity. More than 200 registered charities and NGOs have received Rat Race funds that enabled them to run operations and programmes that benefit the poor, the disadvantaged and the disabled - regardless of colour, creed or gender.
This year's Kuala Lumpur Rat Race® will once again call on Corporate Malaysia to don running shoes for charity. The funds raised from the 19th edition of The Edge Kuala Lumpur Rat Race® will be disbursed via The Edge Education Foundation, the philanthropic arm of The Edge. Since 2014, in line with the Foundation's focus on education, Rat Race funds go towards supporting projects or programmes related to education, training and skills development. Part of the funds will also be used to support programmes to enhance English proficiency and financial literacy run by the Foundation, as well as a scholarship programme.
Applicants for Rat Race funds go through a vetting and selection process that requires them to submit detailed project proposals, audited financial statements and other supporting documents.
The focus on education, training and skills development is to equip the physically and intellectually disabled as well as disadvantaged members of society to be able to lead lives of greater dignity or earn a livelihood and, ultimately, be better integrated into society.
As the saying goes, "Give a man a fish and he will eat for a day. Teach him how to fish and he will eat for a lifetime". We would like to invite Corporate Malaysia to join us in this endeavour.
All contributions to The Edge Education Foundation, including contributions for The Kuala Lumpur Rat Race®, are tax-exempt (LHDN.01/35/42/51/179-6.6346)